To see a list and map of all Voyage Communities, visit the Community Network main page.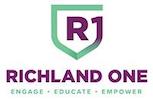 Emerging Site Since: April 21, 2021
Opening Date: TBD
Exhibition Type: Mark II
Lead Institution: Richland County School District One
Partner Institutions:
Proposed Location: at the Challenger Learning Center of Richland One

Overview
We Are Richland One, a nationally accredited school district building on a rich history and tradition of excellence. South Carolina's ninth-largest school district, our 23,000 students represent 57 countries and 26 languages spoken. With 52 schools and special centers, our district stretches over 480 square miles and encompasses urban, suburban and rural communities.
Our location in the Palmetto State's capital city gives our students and employees access to advantages you won't find anywhere else – innovative academic programs, unique partnerships with businesses, higher education institutions and the faith community, as well as unlimited cultural opportunities.
Building robots, observing surgical procedures, repairing diesel engines and flying simulated space missions are just a few of the unique educational experiences that we offer our students. Richland One is home to South Carolina's only Challenger Learning Center for Space Science Education.
The Challenger Learning Center of Richland One is an aerospace-themed educational program designed to provide interactive learning experiences, integrating science and math curricula with information and technology. By participating in various simulations, scenarios, and activities, students develop skills in decision making, teamwork, problem solving, and communication.
By engaging students in dynamic, hands-on exploration and discovery opportunities that strengthen knowledge in science, technology, engineering, and mathematics, the Challenger Learning Center inspires students to pursue careers in these fields. The Voyage Scale Model Solar System exhibit and experience supports our goal of building strong foundations in STEM literacy while aligning to curriculum standards. The location of the exhibit at the Challenger Learning Center is easily accessible to the local community and the exhibit will engage students, families, educators, and the public in space science education.

Preliminary Site Maps
To explore the maps below at high resolution, first click on the map, wait for it to load as a pop up window, then drag the pop up window image to your desktop to download. Once downloaded, Zoom in to view at higher resolution.