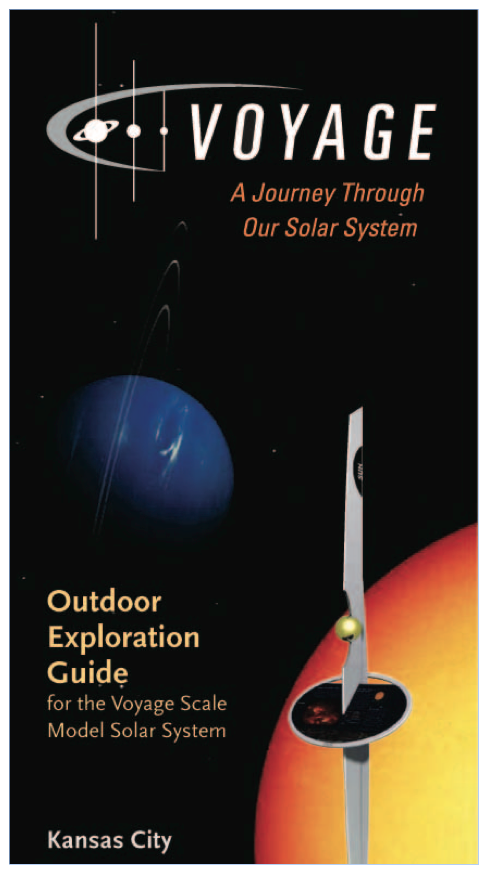 The National Center for Earth and Space Science Education has developed a tour brochure – the Outdoor Exploration Guide – for visitors to a Voyage exhibition. The Guide enhances the visitor experience by providing visitors an orientation to the exhibition, guidance on how to take a tour, and general information relevant to the exhibition. The Outdoor Exploration Guide was designed to facilitate visitor use of the exhibition as a laboratory for inquiry-based exploration as part of a tour, whether it is self-guided or led by a teacher or docent.
For a Voyage Mark I exhibition, or a Voyage Mark II exhibition with Upgrade Package A – Customization, the Outdoor Exploration Guide is customized to the community, and includes the community name, a description of the exhibition in the community including a site-specific photograph, a Custom Site Map with local landmarks for wayfinding, and limited acknowledgment of partner and/or funding organizations.
The Guide also provides approaches to tactile learning for the vision impaired, and for the general learner, using the exhibition's secondary Tactile Model Solar System.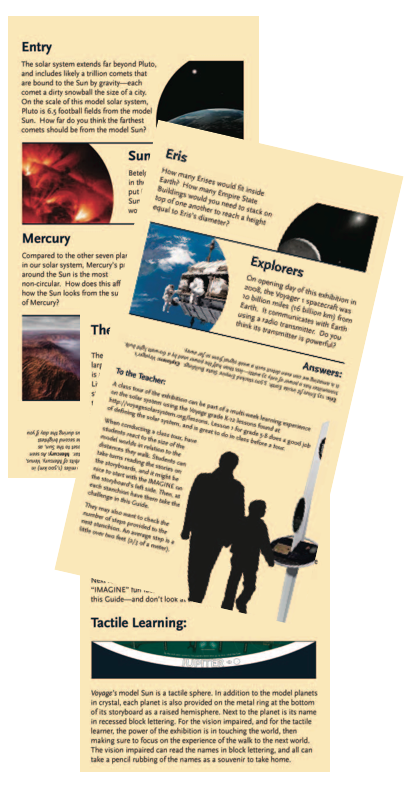 The Guide was developed with the following objectives:
1. Visitor Orientation, Touring, and Other Information
– an overview of the Voyage exhibition and its connection to Voyage on the National Mall in Washington, DC.
– a Site Map with wayfinding information, identical to that found on each stanchion but reformatted for the Guide.
– tips for self-guided touring, recognizing that to achieve the exhibition's core learning objective—that the Solar System is comprised of tiny worlds in a vast space—requires the visitor to also focus on the experience of the walk from stanchion to stanchion.
– the URL for teachers and parent resources, allowing visitors to continue the Voyage at home and in the classroom.
– information for teachers, including an approach to class tours within a multi-week curriculum unit on Solar System science using the Voyage Grade K-12 Curriculum created for the exhibition, and developed from national science standards and benchmarks.
2. Facilitate Inquiry-Based Learning
–  extend the exhibition experience by inviting the visitor to be the explorer, through challenges in the Guide for each stanchion.
– use Voyage as more than a passive exhibition by putting it to work as an inquiry-based laboratory for Solar System exploration.
Explore the images below for the Outdoor Exploration Guide for Voyage In Kansas City, a Mark I exhibition. Click on each image to zoom.