To see a list and map of all Voyage Communities, visit the Community Network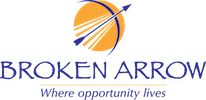 Opening Date: TBD
Exhibition Type: Mark II
Lead Institution:
City of Broken Arrow

Partner Institutions:
Broken Arrow Chamber of Commerce
Broken Arrow Public Schools
Keep Broken Arrow Beautiful
Proposed Location: BAPS High to Creekwood Elementary

Overview
Known for the Rose District and the historical Rooster Days Festival, Broken Arrow is the fourth largest city in Oklahoma, yet maintains its small-town charm. In 2020, Broken Arrow claimed the titles of the 11th Safest City in America and the Happiest Place in the state. Broken Arrow boasts both the third largest manufacturing sector and the largest high school in the state.
Boasting the third-largest manufacturing hub in Oklahoma, companies that set up here rely on a well-educated population. Education is of top priority for the Broken Arrow community and Broken Arrow Schools leads the way in 21st-century education. The mission of Broken Arrow Public Schools is to educate, equip, and empower a community of learners by providing dynamic learning opportunities which enable all students to be successful.
Former and current educators have volunteered and aligned forces to bring the Voyage Project to life in Broken Arrow. Oklahoma has a legacy of aerospace innovation and success dating back more than 100 years, with pioneers like Wiley Post, who launched his career of exploring the limits of high-altitude, long-distance flight in our state.
Today, some of the world's most successful aerospace companies operate in Oklahoma. Through our Voyage Project implementation, we will inspire and encourage students to pursue STEM (Science, Technology, Engineering and Math) education and careers, and relate that learning to opportunities in the aerospace and aviation industry. The Voyage exhibit will be easily accessible to the community as it will sit stretched across two centralized Broken Arrow Public School Campuses (Broken Arrow High School and Creekwood Elementary). It will be less than a mile from BA's new Vanguard Academy, the district's new state-of-the-art STEM facility. Students and families from all over Oklahoma will have access to the whole Voyage experience.

Preliminary Site Maps
To explore the maps below at high resolution, first click on the map, wait for it to load as a pop up window, then drag the pop up window image to your desktop to download. Once downloaded, Zoom in to view at higher resolution.